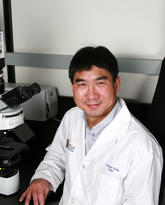 Wee Yong V.
Professor
Clinical Neurosciences
Associate Member
Snyder Institute for Chronic Diseases
Ph.D.
University of British Columbia
Preferred method of communication
Administrative Assistant
Tanna Giroux
Email: tgiroux@ucalgary.ca
Phone: 403.220.4592
Research and teaching
Research Activities
Neuroimmunology is the study of interactions and consequences between the immune and nervous systems. Virtually all neurological disorders have inflammatory components, and these include diseases traditionally associated with overt inflammation, such as multiple sclerosis (MS), and those previously thought to be purely degenerative, including Alzheimer's disease. Neuroinflammation originates from the trafficking of several leukocyte subsets into the nervous system and through the production of immune molecules by neural cells themselves. The interaction between leukocytes and neural cells further promotes CNS inflammation and injury. In recent years, reparative properties of neuroinflammation have been appreciated, so that the balance between beneficial and detrimental neuroinflammation is a crucial determinant of outcome. My research projects have been guided by extremes of immune dysfunctions: MS with chronic inflammation, and glioblastomas where the brain tumor subjugates the immune system. I believe that lessons learned from these extremes can help each condition. More recently and to return to my ethnic roots, I collaborate with the stroke program at Zhengzhou University in China to bring medications into intracerebral hemorrhage, a common condition in China and where secondary neuroinflammation drives injury and recovery. I am proud that my laboratory results have been translated into clinical trials as listed below. Collectively, my research is aimed at understanding, controlling and tipping the balance of neuroinflammation towards one of neuroprotection and regeneration from CNS insults.
Awards
Order of the University of Calgary, 2014
Fellow of the Royal Society of Canada, 2014
President, International Society of Neuroimmunology, 2014 – 2016
Researcher of the Month, Canadians for Health Research, September 2017
Recipient, Allyn Taylor International Prize in Medicine, 2017
Recipient, Killam Graduate Supervision and Mentorship Award, 2018
Recipient, Killam Research Award, 2019
Recipient, Clinician Investigator Program Telemachus Distinguished Mentorship Award, 2020