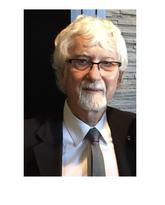 Morley D. Hollenberg
Professor
Physiology and Pharmacology
Full Member
Snyder Institute for Chronic Diseases
MSc - Chemistry
University of Manitoba
PhD - Pharmacology
Oxford University
MD and Internship
Johns Hopkins University School of Medicine
Preferred method of communication
Administrative Assistant
Angie Lamb
alamb@ucalgary.ca
Research and teaching
Activities
My current research focus deals with the impact of microenvironment proteinase signalling on inflammatory responses mediated by the innate immune response system. Extracellular proteinases trigger inflammation by a variety of mechanisms ranging from the activation of the coagulation and complement cascades to the generation and inactivation of inflammatory peptides and the amplification of the unchecked actions of skin tissue proteolytic kallikreins (KLKs/= the prostate-specific antigen family of proteinases) (Pharmacol Rev. 68:1110, 2016: PMID: 27677721).

Proteinase-mediated inflammation is best typified by the coagulation pathway, activated by injury and mediated by a proteolytic enzyme cascade that in turn, via thrombin generation, both clots the blood (converting fibrinogen to fibrin) and signals to the vasculature and other tissues by cleaving/activating proteinase-activated receptors (PARs).

The PARs regulate diverse pathophysiological processes ranging from vascular angiogenesis and contractility to tumorigenesis, neurodegeneration, arthritic and intestinal inflammation and pain. Projects in my laboratory link to all of these pathologies.

As one major focus, we are studying the activation of these receptors (PARs 1, 2 and 4) by thrombin, trypsin and other proteinases, like neutrophil elastase and the tumour-derived tissue KLK-kallikrein family. We are particularly interested in the signalling pathways for the PARs that are in common with those for growth factor receptors, resulting in the activation of cellular tyrosine kinase pathways in the vasculature and other target tissues. A major direction related to signaling by proteinases seeks to identify, with our use of activity-based covalent proteinase labeling probes and proteomic analysis, those proteinases responsible for regulating cell and tissue function via the PARs in the settings of health and disease.
EDUCATION FOCUS: Molecular pharmacology; clinical pharmacology; Royal College Resident Training programme in Clinical Pharmacology
Biography
Former Department Head, Department of Pharmacology, 1979-1989
Former Director 'Leaders in Medicine' (LIM) programme
Currently, LIM programe advisor.
Awards
Honors and Awards
1964-67 Rhodes Scholarship
1971 Johns Hopkins Medical Society Award for Undergraduate Research, The Johns Hopkins School of Medicine
1972 Upjohn Award for Clinical Proficiency, The Johns Hopkins School of Medicine
1972-73 Medical Research Council of Canada Fellowship
1999 Pharmacological Society of Canada Novartis Award for Outstanding Contribution to Pharmacology in Canada
2009 Distinguished Scientist Award, Canadian Society for Clinical Investigation
2011 McLaughlin Medal, Royal Society of Canada award for important research of sustained excellence in medical science
2012 Henry Friesen Award for demonstrated leadership in developing biomedical research at local, national and international levels, the Canadian Society for Clinical Investigation/Royal College of Physicians and Surgeons of Canada, 2012
2013 The E.K. Frey - E Werle Commemorative Gold Medal for outstanding contributions on the kallikrein-kinin system, Henning Voigt Foundation
2014 Named on the Thomson Reuters 2014 list of Highly Cited Researchers in the sciences Listed in "The Worlds Most Influential Scientific Minds: 2014", Thomson Reuters; 2018 H-index = 89/Google Scholar