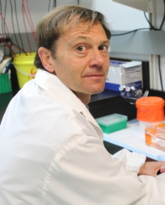 Johann D.D. Pitout
Professor
Pathology and Laboratory Medicine
Microbiology, Immunology and Infectious Diseases
Full Member
Snyder Institute for Chronic Diseases
Research and teaching
Research Activities
My main research interests are resistance to antimicrobial agents among Gram-negative bacteria especially the laboratory detection, characterization, molecular epidemiology and evolution of bacteria with newer b-lactamases such as AmpC, Extended-spectrum b-lactamases and Carbapenemases. I have also been involved in population-based studies and the role of high-risk clones and mobile genetic elements (such as plasmids) among bacteria producing these newer types of b-lactamases.
Awards
Named on the 2015, 2016, 2017, 2018, 2019 highly cited researchers list on Webb of Science.
2020: Recognition by University of Calgary and the Web of Science Group as one of the most cited cross-field researchers in the world from 2008-2018.
Thought leader in antimicrobial resistance.