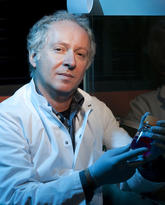 Hermann Schätzl
Professor and Associate Dean, Research
Comparative Biology and Experimenal Medicine, Veterinary Medicine
Full Member
Snyder Institute for Chronic Diseases
Preferred method of communication
Administrative Assistant
Mary Anderson
andersmk@ucalgary.ca
Lab Manager
Su Shim
syshim@ucalgary.ca
Research and teaching
Activities
Our work over the past 28 years focused on the cellular and molecular biology of prion diseases. Prion diseases are fatal infectious neurodegenerative disorders of man and animals, and their manifestation can be sporadic, genetic, or acquired by infection. Examples are BSE in cattle, scrapie in sheep, chronic wasting disease (CWD) in deer and elk, and CJD in humans. These diseases have the potential to transmit within or between species, resulting in endemic and epidemic scenarios. Our overall objective is to study the molecular biology of prion infections and to use gained understanding for delineating novel targets for intervention.
Publications
https://pubmed.ncbi.nim.nig.gov/?term-schatzl%20h
Awards
1991 Thesis Award 'summa cum laude', University of Munich, Germany
1992 'Henry Kaplan Award', Modern Trends in Human Leukemia X, Wilsede, Germany
1995 Stipend Ciba Foundation, London, U.K.
1996 Stipend 2nd Annual German American Frontiers of Science Symposium, U.S.A.
1997 1st Prize for scientific presentation Research Festival Munich, Germany
2008 Japanese Health Science Foundation Award; keynote speaker 'Prion 2008 Japan'
2012 WWAMI Lecture (elected) for 2011-2012 Science of Medicine Lecture series (UoWash)
2019 Outstanding Achievement in Graduate Supervision, Teaching award of Faculty of Veterinary Medicine (one per year)