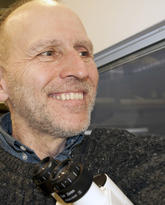 Matthias Amrein
Professor
Cell Biology and Anatomy
Full Member
Snyder Institute for Chronic Diseases
Preferred method of communication
Administrative Assistant
Donna Allan
Email: dallan@ucalgary.ca
Office: 403.220.7082
Research and teaching
Research activities
My lab has discovered the molecular mechanism of a breakdown of pulmonary surfactant structure and function in the oxidative environment of lung inflammation, leading to an experimental treatment (EP 2900246, CA 2886544, WO2014047715, US9545424) that is currently pursued by SolAreoMed, Calgary.
My group found a mechanism for the lung epithelium to efficiently clear inhaled nanoparticles. We devised a novel technique of live lung microscopy, and a spectroscopy to quantify the epithelium-particle (US Patent 9,018,018 Amrein, Shi), a method that is now the basis of a joint venture Bruker.com. Another project, the Amrein lab together with the group of Dr. Sutherland discovered that cancer tissues vibrate. We now develop a respective spectroscopy to identify cancer cell types and how they interact with their environment.
Biography
Dr. Amrein is a researcher at the Cumming School of Medicine, University of Calgary, Snyder Institute for Chronic Diseases, Airway Inflammation Research Group (AIRG). He studied at the Swiss Federal Institute of Technology, Zurich (ETH) with a doctorate from a joint venture between the IBM research lab in Rueschlikon (group of Nobel Laureate Heinrich Rohrer) and ETH, where he was the first to successfully apply the then new scanning probe technique (STM, AFM) to the biomedical area. As the director of a university-wide microscopy and imaging facility (MIF), I have unique insight and experience in how to apply leading microscopy techniques to medical research, including cancer research. The facility offers electron-, atomic force- and super resolution light microscopy and serves researchers from more than 100 industry- and academic labs from medicine, biological sciences and engineering microscopy. Within the MIF, we have invented some of the methods offered, including single cell force spectroscopy as a cell activation tool (see next section). This patented method was discussed in the editorial of Science and has led to publications in Nature Medicine, Immunity, Journal of Experimental Medicine, etc. Another recent discovery by the Amrein lab together with the group of Dr. Garnette Sutherland concerns cancer tissues vibrations with a potential for real-time cancer diagnostics on biopsies and potentially within the body (see next section). The method for recording these vibrations and the respective analysis of the signal were developed in the Amrein lab and may be applicable to to study how cancer cells respond to immune cells, for example, or to contact with an exosome.
Publications
scholar.google.com/citations?user=incFrXUAAAAJ&hl=en