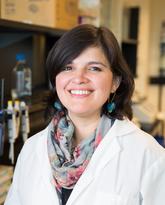 Marie-Claire Arrieta
Assistant Professor
Physiology and Pharmacology
Pediatrics
Full Member
Snyder Institute for Chronic Diseases
PhD.
University of Alberta
MSc
University of Alberta
BSc.
Universidad de Costa Rica
Preferred method of communication
Administrative Assistant
Donna Allen
Email: dallan@ucalgary.ca
Phone: 403.220.7082
Research and teaching
Research Activities
Dr Arrieta's research studies the how the millions of microbes that inhabit an infant's gut (the early-life gut microbiome) contributes to human health or disease. Her research program conducts clinical and experimental research, aiming to understand the mechanisms behind host-microbiome interactions.
Awards
11/2020 Peter Lougheed Research Award, Cumming School of Medicine
09/2020 Killam Emerging Research Leader Award, University of Calgary
11/2018 Peak Scholar Award, University of Calgary
11/2018 New Investigator Award, SickKids Foundation and CIHR.
07/2017 Calgary Top 40 Under 40, Avenue Magazine, Calgary.
09/2016 National Science Prize 2017, Costa Rica Ministry of Science and Technology
09/2010 President's Doctoral Prize, University of Alberta
09/2009 President's Doctoral Prize, University of Alberta
03/2009 Andrew Stewart Memorial Award, University of Alberta